Disclaimer: This post may include affiliate links. If you click and make a purchase through one of our links, we may receive a small commission at no extra cost to you. We're grateful for your support in helping Bloom and Manifest stay up and running!
One of the questions I get asked all the time is, "how do I protect myself from toxic people and negative energy?" …and for good reason!
It's challenging to navigate a busy, demanding, loud, and fast-paced world. Especially if you're a sensitive or intuitive person.
But don't worry, there's tons you can do to keep yourself protected and clear. For starters, working with protection crystals can transform the way you experience (or don't experience) energy.
I'll share some of my tried and true protection stones that you can use today to lessen the negative load.
Wanna save this for later? Pin it on pinterest!
The Best Protection Crystals 
1. Black Tourmaline
Black tourmaline is one the best protection stones out there. (I use it almost every single day!)
It's a great energy protection crystal that you can carry in your pocket or wear as jewelry- my favorite option.
If you have a black tourmaline necklace it's a great accessory to throw on before you leave the house and especially if you're going to be around a lot of other people.
If you don't have one, I recommend this one from one of my favorite etsy crystal shops.
Black tourmaline protects you by repelling any negative energy from your aura. It can act as a shield and also absorb toxic energy so that it doesn't end up affecting you.
Be sure to cleanse your black tourmaline and ask for its assistance protecting you from negativity.
You might also like: How to Cleanse Crystals: Easy How-To Guide
2. Black Onyx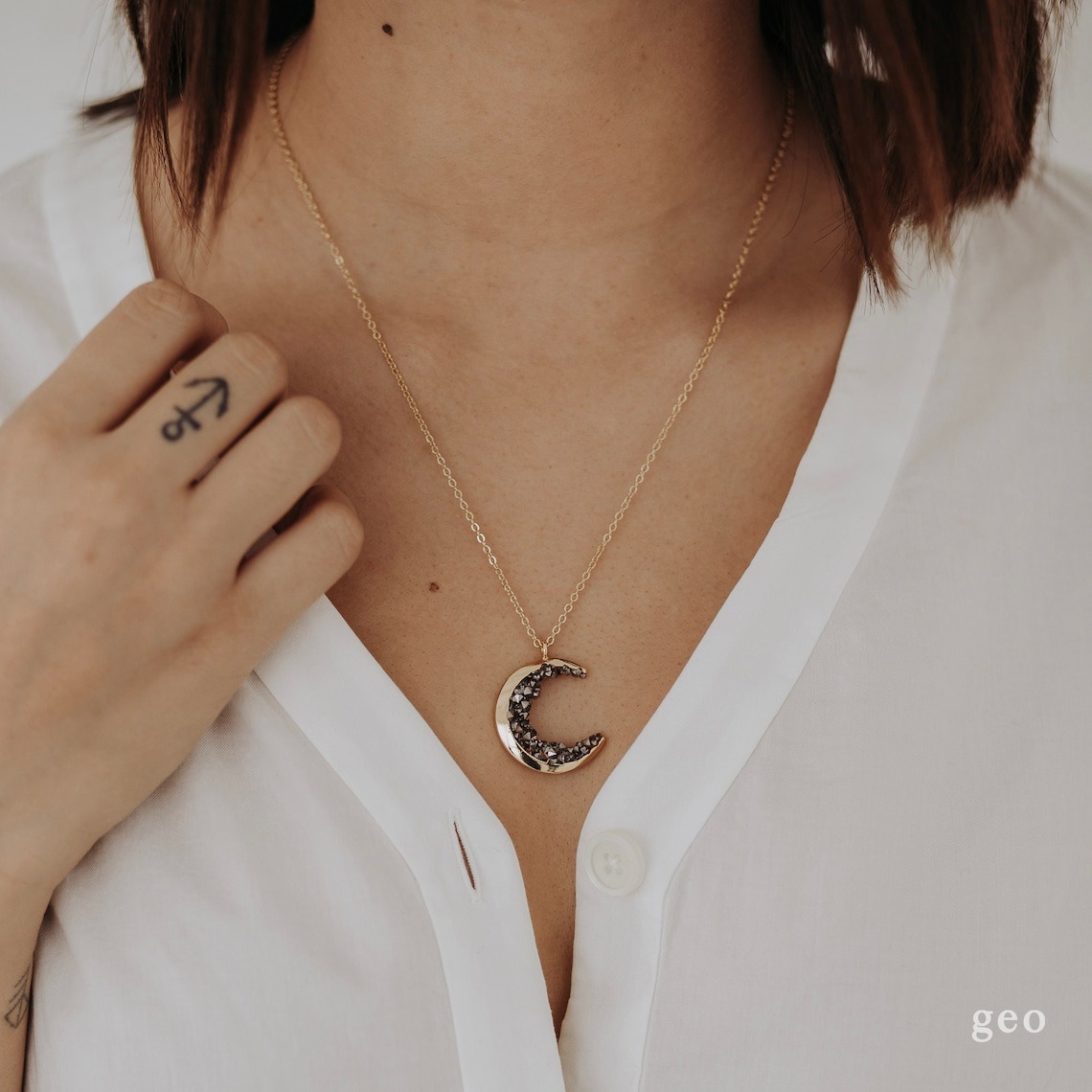 Black onyx is another incredible crystal for protection. It's great at helping you remain energized and free from any toxic energy that tries to drain you. 
Not only that but if you're ever worried about making bad decisions- black onyx is a powerful stone to wear because it can help keep your mind clear and protect you from making any choices that are not for your highest good.
3. Labradorite
Labradorite is not only a beautiful stone but a powerful one for psychic protection.
It keeps you protected from things like gossip, judgement, manipulation, and energy vampires.
As a powerful protection crystal labradorite is wonderful for keeping the heart chakra clear and unaffected by negative external forces.
One of the best ways to use labradorite is in meditation. If you have a labradorite palm stone you can hold it between your palms and use it as a protection tool while you meditate or even sleep.
Another great way to use it is under your pillow while you sleep… this will help shield you in the astral realm and protect you from bad dreams.
Shop Banishing Mist with Labradorite
4. Blue Kyanite
I love blue kyanite for so many reasons. It's has a gentle and supportive energy that makes it great for protecting your nerves from being frazzled. As a protection stone, I like to use it for support in remaining calm and connected to higher realms.
Blue kyanite is also a great crystal for mental protection. Things like manipulation, lies, anxious thoughts, doubt, brainwashing and bullying can all be avoided with blue kyanite. 
5. Fluorite
This beautiful and colorful stone is a wonderful crystal for protection. It works effectively for protection against harmful frequencies that come from computers or electronics (EMF's). Placing a fluorite lamp in your office is not only beautiful but a great way to keep your energy protected and clear from any harmful frequencies. 
Fluorite gives a calming and soothing energy to the space, making it a great protection against chaos.
6. Black Obsidian
Black obsidian is one of the best protection crystals for its sheer power. It protects against bad luck and can banish negative energy from your aura. Any curses, negativity or ill wishes sent your way can be shielded and rejected with the use of protective black obsidian.
7. Spirit Quartz
Spirit quartz is another one of my favorite crystals for protection. Not only is it mystical and beautiful but it helps protect you against the negative influence of fear. It's a wonderful stone for protecting your personal power and any self-inflicted blocks that keep you from being your best self. Carry it in your pocket or use it in meditation to help set your intentions for protection of your best self.
8. Smoky Quartz
Smoky quartz works as a crystal for protection by taking any negative energy you encounter and grounding it back into the earth. It's great for removing negative energy from your body and will absorb all negative and dense energy so it can be released from your being. 
9. Moldavite
I wanted a piece of moldavite for so long but held off on buying one because it's quite an investment for a small piece. Being that it's a rare stone only found in a certain area, a piece of moldavite the size of a bean can cost a minimum of $30. Read more about it here- Moldavite: An Amazing Transformation Crystal
That being said, moldavite is one of the most powerful stones I've ever worked with. When you hold a genuine piece (beware: fake moldavite IS out there and commonly sold) you can feel a tingling or subtle surge of energy.
It helps protect you from dark energy and assures that you stay connected to the "light" when doing spiritual work. It's a highly transformative stone especially for those with healing gifts.
For those wanting to sharpen their spiritual gifts or do spiritual work, moldavite is a great protection stone that can keep you connected to the highest good.
I bought my genuine moldavite from Tree Fort Bazaar on etsy.
10. Shungite
Last but not least, Shungite. When it comes to the best protection stones, shungite is high on my list and something I'll never be without.
Shungite does an incredible job at protecting from the harmful EMF frequencies that come from electronics.
TVs, cellphones, laptops and electronics all give off harmful frequencies that are detrimental to our health and wellbeing.
Keeping a piece of shungite near your internet router or near any of your electronics is a smart move. You can also get a shungite cell phone sticker that will keep you protected from the EMF that comes from your phone.
Posts You may also like:
10 Most Powerful Crystals for Manifestation
How Ceremonial Cacao Protects Your Energy & Strengthens Your Connection To Purpose
I hope you come across some crystals that you can use for protection and shielding. Do you have a favorite? If not, which one from this post calls out to you most? Let me know in the comments!